---
Psychological and Political Strategies for Peace Negotiation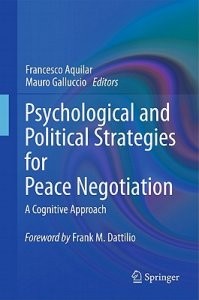 A Cognitive Approach
2011
Francesco Aquilar and Mauro Galluccio (editors)
Peace is one of the most sought after commodities around the world, and as a result, individuals and countries employ a variety of tactics to obtain it. One of the most common practices used to accomplish peace is negotiation. And with its elevated role in the dialogue surrounding peace, negotiation is often steeped in politics and focused on managing parties in conflict. However, the art and science of negotiation can and should be viewed more broadly to include a psychological and cognitive approach.
Psychological and Political Strategies for Peace Negotiation gathers the foremost authors in the field and combines their expertise into a volume which addresses the complexity of peace negotiation strategies. To further underscore the importance of successful negotiation strategies, the editors have also included the unique perspective of authors with personal experience with political upheaval in Serbia and Lebanon. Though each chapter focuses on a different topic, they are integrated to create a foundation for future research and practice.
Specific topics included in this volume embrace:
• Changing minds and the multiple intelligence (MI) framework
• Personal schemas in the negotiation process
• Escalation of image in international conflicts
• Representative decision making
• Transformative leadership for peace negotiation.
Psychological and Political Strategies for Peace Negotiation is an essential reference for psychologists, negotiators, mediators, and conflict managers, as well as for students and researchers in international, cross-cultural and peace psychology studies.