---
Handbook of International Negotiation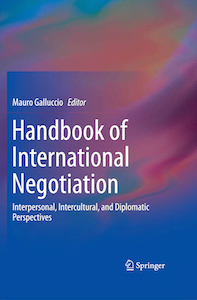 Interpersonal, Intercultural and Diplomatic Perspectives
2014
Mauro Galluccio (editor)
This cross-disciplinary handbook offers leading-edge concepts and science-based models for fostering alternatives to violent and armed conflict. Chapters discuss in depth as diverse an array of topics as strategies nations in conflict can resist the lure of "war fever", the role of emotional skills in negotiation, and the value of truth and reconciliation commissions, while providing instructive case studies from global hot spots. Expert contributions span the social and cognitive psychologies to neurobiology and readiness theory to the diplomatic sphere, transcending well-known constructs of cultural competence, listening skills, and tact for a range of practical knowledge rarely seen in the peace and negotiation literature. Innovative checklists, questionnaires, decision- making exercises, and other features provide extra dimensions of insight.
Coverage focuses on seven key areas:
• Decision making approaches to negotiation.
• Re-framing approaches to negotiation.
• Conflict management and international negotiation.
• Emotion regulation in negotiation.
• Cognitive and behavioral approaches to negotiation.
• The intercultural dimension of international negotiation.
• Diplomacy and international negotiation.
As the stakes in global conflict continue to escalate, the more the Handbook of International Negotiation stands out as vital reading for international peace negotiators, conflict management negotiators, decision-makers, politicians, students and scholars in peace studies.